About
Ok, so maybe you're asking yourself, "Who is this guy, and what qualifications does he have?"  Well, I'm nobody special, just a regular user like yourself.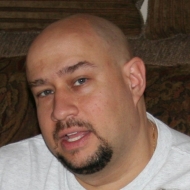 My name is Brian McElyea and I am a Senior Mechanical Engineer and pseudo-CAD Support for Intuitive Research & Technology Corporation (INTUITIVE).  I am a Certified SolidWorks Professional (CSWP), and a founding member of the North Alabama SolidWorks User Group (NASWUG). I began this blog because I wanted to be more involved with the SolidWorks Community and have a little input.
My first exposure to CAD software was AutoCAD™ 10 in my college drafting class.  The bulk of the class was still on drawing boards at that time, but we did spend the last 2 weeks on the computers!
After I graduated college, I went to work as a manufacturing engineer building Carrier HVAC units, tanning beds, and USPS drop-boxes (the big blue ones you see on street corners).  While I was there, I played around on AutoCAD™ 12 at that time helping to develop sheet metal flats.  From there, I went on to more of a quality engineering-type position using AutoCAD™ 13 (ack!) and a third-party software that worked vaguely similar to Mechanical Desktop™.
I had another brief manufacturing stint at another contractor before joining Miltec Corporation.  I started at Miltec in January 1999 using AutoCAD™ 14, and we quickly moved on to Autodesk® Inventor™ as soon as it was released and ran with it until R8.  (They kept the seats for legacy's sake so I still played around on it some, but my skills became rather rusty.)
I have used SolidWorks software since October 2003 (starting with SolidWorks 2004), and was instrumental in the conversion from Autodesk® Inventor™ at Miltec.  I was also responsible for the implementation and administration of Miltec's PDMWorks Enterprise installation.  At the time I left Miltec, I was supporting 12 network seats of SolidWorks and approximately 16 users spread over three different locations!
In July of 2008, I joined INTUITIVE as a Senior Mechanical Engineer.  I am also going to get to stretch my CAD administration wings here; we are in the process of implementing Solidworks Workgroup PDM and are planning a jump to SolidWorks Enterprise PDM in the future.
I'm very excited and pleased with the direction SolidWorks is moving in, and anticipate each new release with much excitment.  I also like to keep abreast of the CAD industry in general and all the new technology and capabilities being introduced; hence the name CADFanatic.
Brian McElyea
Senior Mechanical Design Engineer
CAD Manager/Support
Certified SolidWorks Professional (CSWP)
Certified SolidWorks Professional  – Sheet Metal Specialist (CSWP-STML)
Certified SolidWorks Associate (CSWA)
Disclosures & Disclaimer:
I use DS SolidWorks Corp software daily in my full-time job. However, DS SolidWorks Corp provides me with a non-commercial license of SolidWorks Premium for ongoing educational and research purposes. I am in occasional contact with employees at DS SolidWorks Corp, and am sometimes asked to provide feedback on new products or programs.
I am also in occasional contact with other companies that may be mentioned on this site. Some of these companies occasionally provide non-commercially licensed software and/or hardware for review or feedback.
I am not compensated for any of the above efforts.
Any revenue generated via affiliate links or ads on this site is incidental and have no bearing on this site's content.
Additional disclosures and/or disclaimers may be made in individual articles as warranted.