Guest Post: SWW: The Magic of Design
Would You Trust Your Life to SOLIDWORKS?
The Magic of Design at SOLIDWORKS World 2017
SOLIDWORKS World is where the magic happens. This year, that magic was literal as the conference kicked off in Los Angeles with death-defying illusions. The magic continued throughout the three day conference with innovations from SOLIDWORKS, their partners, and their customers that surprised and delighted the 5000 attendees.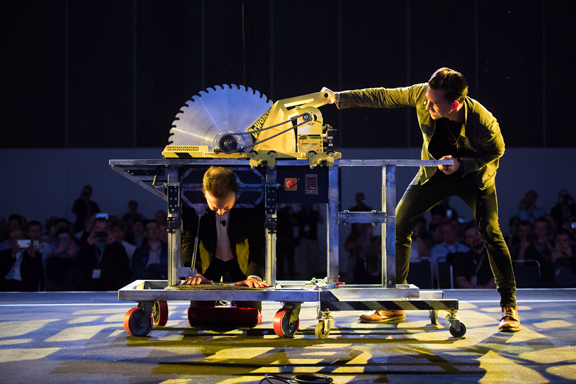 2017's SOLIDWORKS World kicked off with Illusion Projects INC partners Justin Flom and Tim Clothier challenging Gian Paolo Bassi, "would you trust your life to SOLIDWORKS?" Bassi put his head under the 26-inch, track-mounted buzzsaw designed with dangerously tight tolerances, made possible with SOLIDWORKS.
The magic continued throughout the three day conference, with optimization, Internet of Things (IoT), and robotics taking center stage.
SOLIDWORKS revealed how the entire design process will be evolving in the coming years. Currently, products are created with a "design and validate" process – meaning designers create what they believe is the best design for their product and then use simulation to validate the model. This will be changing soon as SOLIDWORKS is now moving to a "optimize and manufacture" process in which users only need to specify information such as the loads and stresses necessary for the product and the algorithm generates an optimal design. This new process speeds the time to market considerable while creating mathematically ideal geometry. Bassi shared that "today, we expect the computing platform to anticipate your design goals. This is why we're introducing topology optimization in SOLIDWORKS, in collaboration with our world-class engineers from SIMULIA."
The conferenced continued to dazzle by showcasing innovations using SOLIDWORKS such as NASA's Jet Propulsion Laboratory's asteroid redirect robot, scheduled to be finished in 2021. NASA is developing a first-ever robotic mission to visit a large near-Earth asteroid, collect a 15-ton boulder from its surface, and redirect it into a stable orbit around the moon, technology that can help prevent a real life Armageddon.   
Back on planet Earth, the SpaceX Hyperloop project seeks to revolutionize transportation with a competition to build a system that can travel from Los Angeles to San Francisco in less than an hour, travelling at speeds up to 700 miles per hour. The 2016 and 2017 winners will test their designs later this year.
Dassault Systemes is getting in on the action as well, expanding their 3DEXPERIENCE Lab to the United States in May 2017, providing an innovation laboratory and startup accelerator in collaboration with MIT's Center for Bits and Atoms. The lab will nurture entrepreneurial projects that have the potential to transform society through a one or two year program that accelerates their product development.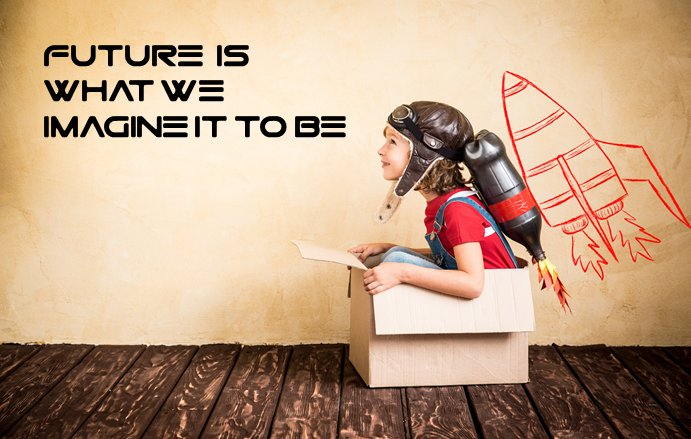 One of the most inspiring talks of the conference was Anousheh Ansari, the first female private space explorer and the first astronaut of Iranian descent. Anousheh credits her interest in science and engineering to the influence of science fiction including Jules Verne and Gene Roddenberry, contributing to her imagination of what could be possible. Her vision of our future in space includes a reliance on 3D printing, being able to produce parts and tools that a space station needs, when they need them.
Jason Silva, the Emmy-nominated host of National Geographic Channel's #1 rated and Emmy-nominated series, Brain Games, shared his vision of the future in an impassioned speech. "We are the species that transforms and transcends." He believes that we've moved passed traditional evolution, "we have truly decommissioned natural selection and now we must decide what we will become." Silva invoked Moore's Law, stating that "we live in a world where technology is happening at an exponential change." This change isn't to be feared, but embraced. "The speed of change is not something we should be apprehensive about but something we should be excited about."  
Bassi shared similar sentiments. "The only constant in life and business is change. The very nature of product design is changing."
Next year's SOLIDWORKS World will again be held in Los Angeles from February 4th to 7th 2018.
—
By Tony Glockler, CEO of SolidProfessor
SolidProfessor provides next generation learning for teams, schools, and individuals to keep up with rapidly evolving engineering tools and technologies. Their online learning resources include video tutorials, hands-on exercises, and skills assessments to provide an engaging and effective learning experience.