SolidWorks World 2013 – Monday General Session
21 January 2013
No Comment

SolidWorks World 2013 kicked off today with CEO Bertrand Sicot taking the stage.  He seemed a little more comfortable this year than last.
Sicot announced that there were over 4500 attendees at the conference this year.  Four years ago, Jeff Ray announced that SolidWorks sold their 1 millionth license; Sicot said that they had hit the 2 million mark this past December.  Sicot also said that SolidWorks was in 25,000 schools worldwide, with 2.5 million students having access to the software.

NEW PORTAL
Sicot then talked about my.solidworks.com, a new portal into the SolidWorks community.  It brings in information from multiple sources on tools, tips, and tricks from multiple sources.  There are filters to customize the content.  Unfortunately, it is not working on mobile as of this writing.

According to Sicot, SolidWorks' 2012 customer satisfaction rating is 94%, up one point from 2011.  94% of the enhancements in SolidWorks 2013 resulted from customer requests.
Sicot then went over the company's latest new software offerings from the past year: SolidWorks Electrical, SolidWorks Plastics, and eDrawings for iPad and iPhone.  He said that an Android version of eDrawings is forthcoming.
NEW PLATFORM

Bernard Charles, President and CEO of SolidWorks' parent company, Dassault Systèmes (DS), came up and spoke.  DS was ranked by Forbes as the 4th most innovative company.  Then Charles talked about their new platform, 3DEXPERIENCE, and showed the ad that DS had ran across media outlets over the past year (it is the one shown last year at SolidWorks World 2012 dragging the iceberg across the sea and when they revealed the "compass" logo and the "IFWE" brand.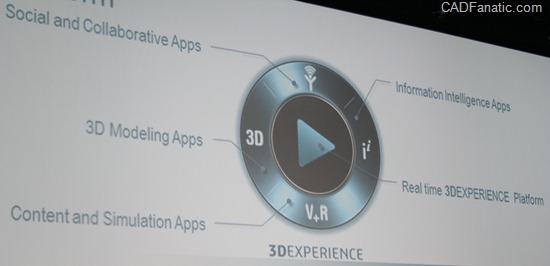 NEW SOFTWARE
Next, Fielder Hiss took the stage to announce their new product, SolidWorks Mechanical Conceptual.  This software was talked about at the SolidWorks 2013 launch event.  It is what everyone was calling "SolidWorks V6", after several pivots and changes at SolidWorks.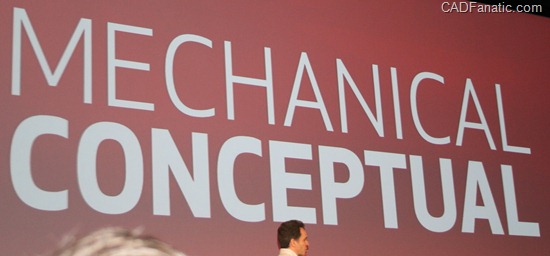 The software looks to be very cool, but the name doesn't do anything for me.  Maybe it will grow on me.  This software looks very intuitive to use for generating conceptual models, and has tools for easily connecting to other coworkers/users worldwide for collaboration and design.  I will have to get my hands on it before I can say much more.

SolidWorks is looking for users to put this tool to use in a production test environment this May, with general availability in the October-November 2013 timeframe.
WE'LL BE BACK AFTER THESE MESSAGES
They then took a short commercial break for platinum sponsor HP, and showed a customer video from Factory 5 Racing.
NEW RECORDS
Stephen Endersby, Senior Product Manager, then took the stage to talk about the Red Bull Stratos design team from Sage Cheshire.  Art Thompson, Technical Project Director, and John Wells, Capsule Crew Chief, took the stage to talk about the record-breaking jump of Felix Baumgartner in October 2012.  If you don't know, Baumgartner became the first human to break the sound barrier without the use of a vehicle.
Also as an aside to this, Endersby had written a blog post about this a while back and used SolidWorks Flow Simulation to see what might happen to a human attempting this.  The post was picked up by the national media.
DISCLOSURE: DS SolidWorks Corp paid for my conference fee, lodging, and some meals.