SolidWorks World 2009 Registration Goodies
8 February 2009
No Comment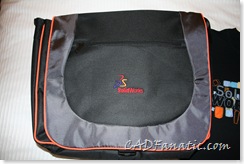 One of the small, but neat things to me about attending conferences is all the swag you get.  And as always, the first swag that you get at SolidWorks World are the bags and T-shirts that SolidWorks gives attendees when they register.
This year, the bags that SolidWorks are giving out are heavy messenger bags.  While I personally prefer a backpack for carrying a laptop and other materials around (and I will probably just stick with the one I got last year), these bags are very sturdy and attractive, and they have more compartments and storage capacity than the ones they gave out in New Orleans two years ago.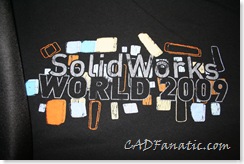 They also have some very cool looking shirts:
I can't wait to check out the partner pavilion and see what other goodies I can pick up!  And, oh yeah…maybe I will learn a thing or two also! 😉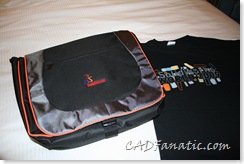 Last edited on 04/03/2009 @ 2:31PM CDT.