SolidWorks World 2009 – Monday General Session
9 February 2009
15 Comments


The first General Session of SolidWorks World 2009 began with an impressive 3D rendered animation of the Mega Brands Inc. iCoaster.  Then, SolidWorks CEO Jeff Ray took the stage.
A SURPRISE FOR SOLIDWORKS
The first order of business was to announce the number of attendees.  Jeff mentioned that in the current state of the economy right now, their expectations for attendance was around 3000; as of this morning, they had 4313 registered attendees!  (Maybe that's why I didn't get any hot food items for breakfast this morning…)
He specifically mentioned two guys who made the trip on their own:
Rod Hall, a SolidWorks User Group Leader from North Carolina, was recently laid off in the past few weeks, but made the trip on his own; and
Joe Lance, who has been a religious attendee of SolidWorks World in years past, whose company this year told him that they could not get him here.  He decided to pay his own way and take vacation to attend SolidWorks World.
I suspect that there are many more who may be in the same predicament, but made the choice and sacrifice to attend.  The networking and knowledge gained makes attending SolidWorks World worthwhile, even in our sluggish and faltering economy.
Jeff also mentioned that Dassault Systèmes (DSS) has a big presence at the conference this year, with several booths for 3DVia and their other products.
THE FUTURE OF SOLIDWORKS
Jeff mentioned three core things that SolidWorks is working on for the future:
Installs – The current installation procedure is complicated and discourages new users.
Upgrades – The current upgrade process disrupts design; he wants to "obliterate the upgrade process".
Managing Design Data – Make finding data across the enterprise and beyond as simple as possible.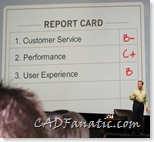 Jeff also showed a report card, rating themselves on 3 criteria: customer service, performance, and user experience.  As can be seen in the image to the left, they still have some work to do!  😉
But seriously, he reported that overall customer service satisfaction improved 91%, and the very satisfied rating improved to 43%.  The Customer Portal received 1.2M visits and 10M hits.
Performance in SolidWorks 2009 is REPORTEDLY 65% faster than in previous versions, resulting in an 8X time savings.  I haven't ran any tests personally, but 2009 definitely feels faster.  I do know that one NASWUG user ran a test creating a 3-view drawing of a large assembly consisting of 4942 parts, and the results were 3min 30sec in SW2008 vs. 45 sec in SW2009.  If did my math right, that's almost 80% faster…
Jeff then talked about Brainstorm, SolidWorks' new "Top Ten List" (accessible through the Customer Portal).  This site will allow community votes throughout the year and makes the top ten list transparent to users, as you can see the ratings for each suggestion.
RECESSION & SPAM

After this, Jeff mentioned that although things may look bleak, we should remember that many important things were developed or invented during the Great Depression:  nylon (first synthetic fiber), the car radio, and Spam.
Jeff then mentioned several companies that were currently developing technologies that are making a difference in the world today:
KEYNOTE SPEAKER, SIR RICHARD BRANSON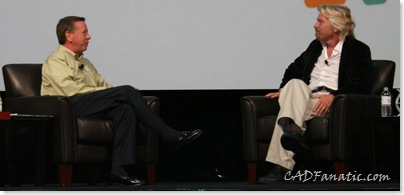 Then, keynote speaker (or interviewee, as the case may be), Sir Richard Branson of the Virgin Group and Virgin Galactic joined Jeff on stage for a interview, which included several questions taken in advance from bloggers/Twitter users.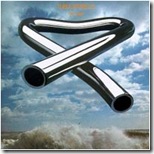 After the introduction, Jeff had Sir Richard Branson sign his LP copy of Tubular Bells.
Jeff asked Sir Richard what led him to create Virgin Airlines, and his response was that he was dissatisfied with the current airlines, from the seating, lighting, decor, food, and the way they treated people "like cattle".  Sir Richard told a very funny story about when he first called up Boeing to order his first 747.  They asked him what company was he with and he responded, "Virgin."  He expected them to just hang up, but instead, they said, "…with a name like Virgin, will the airline go all the way?"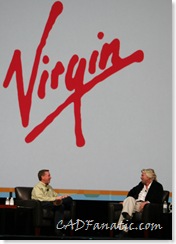 He mentioned some of the racy ads that Virgin had run against British Airways, including flying a plane over B.A. with a sign saying, "B.A. Can't Get It Up".  He also told of a Sun story with the headline, "Virgin Screws B.A."
He said for companies to get ahead and succeed, they need to have the courage to stop doing something, meaning sometimes you have to step back and see if things need to be changed.
Jason Klein asked the question, "'Irreverence' and 'Sex Appeal' are important to the Virgin brand… 1. How have you tailored these traits to different cultures, and 2. What's your rule of thumb to prevent going over the line?"  Sir Richard responded simply by saying that if it makes people smile or laugh, then it's ok.
Jeff said that SolidWorks pays the keynote speakers a fee, but that Sir Richard was adamant that his fee will go to his cause, The Elders.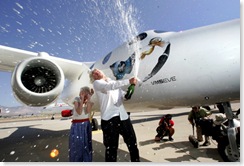 The interview then turned to Sir Richard's newest business, Virgin Galactic.  Sir Richard said that Space Ship 2 and it's Mothership were currently being constructed.  He likened the state of space travel today to trans-Atlantic travel in the 1920's, and hopes that people will be traveling to Mars and beyond within the next 30 years.
Jeff asked if he had any advice to companies during this recession.  Sir Richard said that if a company was looking at layoffs, that they should sit down with their workforce and try to explore alternatives, such as job sharing or working part-time, in order to avoid laying off anyone.

In the press conference immediately following the General Session, one of the things Sir Richard said that really stuck in my head was that as he looked out over the crowd this morning, he saw an "alarming lack of women".  He said that companies should try to recruit more women into engineering and design, as women bring a different approach and product set to the table and that will expand a company's engineering and product development into many other areas.
SUMMARY
Sir Richard left us with the thought that designers not only have the power to create things and make more money, but that by that power, we can make an impact and save the world.
I must say this was one of the most interesting General Sessions I have attended at SolidWorks World.  This was a great start to the conference and from the folks I have talked to and overheard, this keynote has pumped people up!
Updated 02/10/2009