SolidWorks World 2014–Monday General Session
28 January 2014
One Comment
SolidWorks World 2014 kicked of on Monday morning with a lot of excitement!  eatArt's Mondo Spider walked out on stage ahead of DS SolidWorks CEO, Bertrand Sicot.  It was an awesome sight, and a sign of things to come!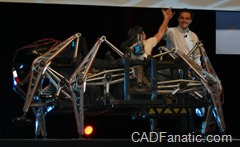 Sicot announced over 5000 attendees were here in San Diego.  He then mentioned the new offerings that have come out this year: SolidWorks Plastics, SolidWorks Electrical (2D and 3D), eDrawings on Android, and DraftSight Professional.  Then we were told of some upcoming products: SolidWorks Inspection, SolidWorks Mechanical Conceptual, and SolidWorks Industrial Conceptual.

Sicot then talked about The Ocean Cleanup project and introduced the one responsible for taking on this task, Boyan Slat.  The goal of the project is to extract 7,250,000,000 kg of plastic from the oceans in 5 years.  You can contribute to this endeavor at the above link.
Sicot then talked about the Copenhagen Wheel, which is a bicycle wheel that can capture the kinetic energy from the rider and bike and use it to help climb hills with the same effort as riding on flat ground.  They also have an app that can be used with the wheel.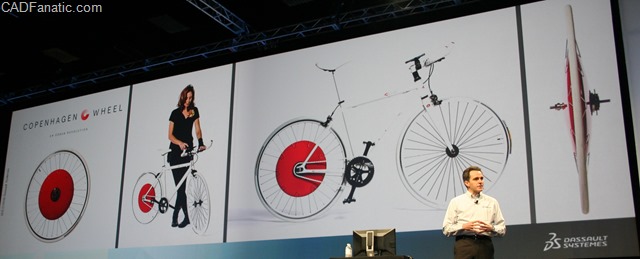 Sicot then introduced Bernard Charlès, President and CEO of Dassault Systèmes (DSS).  Charlès talked a lot about DSS' product offerings.  A lot was made of their 3DEXPERIENCE Platform.  DSS was listed as the third most innovative company in software and programming by Forbes.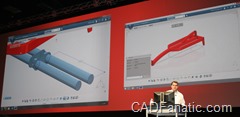 Next up, Aaron Kelly, VP of User Experience and Product Portfolio Management was brought up to talk about the new SolidWorks Mechanical Conceptual (SWMC).  Kelly was joined by Kishore Boyalakuntla, Director of User Experience and Product Portfolio Management, and a mock demo of a shared SWMC session was shown via video.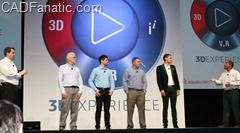 Representatives of four of the lighthouse companies (TriAxial Design and Analysis, Kennedy Hygiene Products Limited, Karl W. Schmidt & Associates, and J.G. WEISSER SÖHNE GmbH & Co. KG) that have been using the product over the last few months were then brought out and gave their thoughts on the software.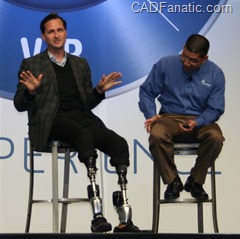 Next up was Rick Chin, Director of Product Innovation, to introduce and interview Hugh Herr, Biomechatronics Director of the MIT Media Lab.  Herr has developed bionic prostheses for amputees; and he is not only the developer, he is a user!  Herr is an avid climber, but lost both of his lower legs due to frostbite during a climbing trip.
These sessions are one of my favorite parts of SolidWorks World; they are so INSPIRING!
After the General Session was over, everyone poured out into the lobby to make their way to their breakout sessions.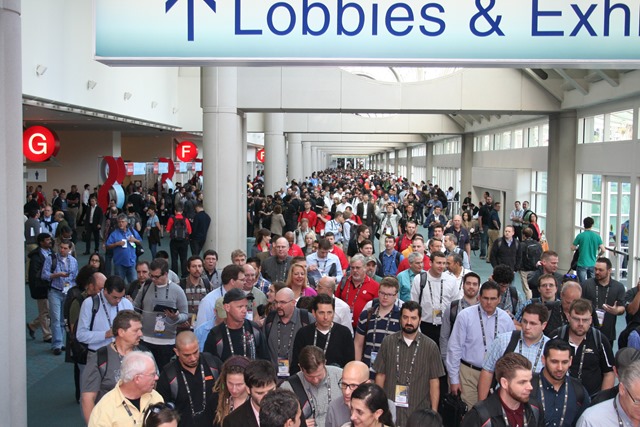 DISCLOSURE: DS SolidWorks Corp paid for my conference fee, lodging, and some meals.