SolidWorks 2013 – Previous Version Interoperability
18 February 2013
6 Comments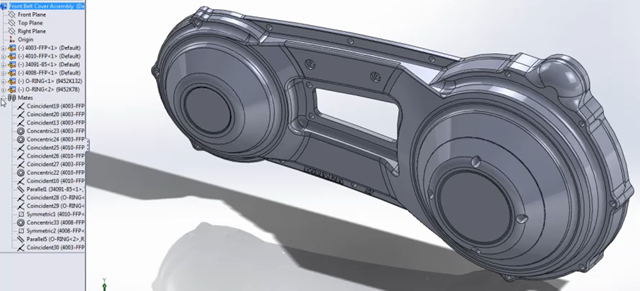 SolidWorks Previous Version Interoperability introduced with SolidWorks 2013 probably isn't what most users were wanting (or at least, were expecting), but I believe it's what most users need.
When users hear, "previous version capability", most think of being able to save their files back to an earlier version.  I believe this is what most users were asking for.  But I think that trying to carry back new features introduced in each new version would be fraught with major issues.  And I also think that most people asking for this type of functionality are those who are not on subscription…
SolidWorks Previous Version Interoperability allows a users with a previous version of SolidWorks (immediately previous, as in Service Pack 5, to be exact) to open current version SolidWorks files. 

This feature packs a little more functionality than just using a neutral file format.  The mates and materials/appearances are retained in the previous version, and part features and assembly components are replaced with "Future version file" icons in the previous version; any in-context relations created in the previous version is kept intact when opened in the the current version.
In SolidWorks' own words:
Previous Release Operability [sic] allows users of previous releases of SolidWorks to utilize and reference files created in the latest release of the software. Interoperability between Customer, Suppliers and Vendors is no longer restricted to the version of the software one contributor to the design process is using. Users eager to take advantage of latest features no longer need to wait for other contributors using a more cautious upgrade period.


Unparalleled collaboration allows users to leverage the powerful new features of the latest release, while allowing others to collaborate when using more cautious upgrade cycles.
Where I work, certain groups only roll to newer versions of SolidWorks every other release, while the group I am in generally rolls as soon as a new version is available.  So this functionality will be excellent for us.  But if you are working with someone who hasn't upgraded for several releases (most likely due to not being on subscription); or you're the one on a deprecated release; its not going to work for you, and you will have to go the neutral-file-format path.

All this being said, working through neutral files has never been that much of an issue with my work, and this functionality has never been very high on my radar.  As I mentioned above, I believe that the majority of the folks requesting this type of functionality are those who are not on subscription (or those who regularly work with those not on subscription).  I do commend SolidWorks for making efforts to add functionality that will enable those who jump in immediately on a new release to work with those who cautiously upgrade.
I will mention that after this feature was announced at SolidWorks World 2012, I was told that the reason they were limiting support to the Service Pack 5 level of the previous version was due to support issues.  They are having to expand their QA matrix to be able to field any issues that may arise, and there is a cost associated with that.  This leads me to believe that there is not a major limitation to being able to go back further, but it is simply a support/money issue.
What do you think?  Will this functionality be of any use to you?  Are you a trail-blazer when it comes to using the newest version of the software, or are you more cautious, choosing to let others work out the issues before you take the plunge?  Or are you not currently on subscription, and using an older version of the software?  Let us know in the comments!
Image credit: DS SolidWorks Corporation