SolidWorks World 2013 – Wednesday General Session
24 January 2013
No Comment
The Wednesday General Session is usually bittersweet for me, because while it is the day we get a sneak peek at the upcoming version of SolidWorks, it is also the last day of the conference.  This year is no different; things start winding down and we say goodbye to friends and colleagues, many of whom we won't see until next World.
DUDE, WE'RE SPONSORED BY DELL!
Fielder Hiss opened the General Session and introduced Kirsten Billhardt from Dell.
MODEL MANIA
SolidWorks Product Marketing Specialist Mark Schneider took the stage to announce the winners of the 2013 Model Mania contest.  This year, the customers beat the resellers!
EDUCATION
Hiss introduced Marie Planchard, Director of Education Community for SolidWorks.  Marie brought up Tom Atchinson, Founder, Chairman, and CEO of Mavericks Civilian Space Foundation.  They expose kids to the principles of STEM through space exploration.  They showed a video of some high school kids who were brought in and designed a flight vehicle based on a reference design to fly a mission.  It was pretty inspiring!

They are looking for mentors, sponsors, benefactors, and other help.  Check out their website for more information.
ANOTHER WORD FROM OUR SPONSORS
Hiss introduced Andrew Cresci from NVIDIA.  He talked about GPU processing and then teased us by showing eDrawings running on Android: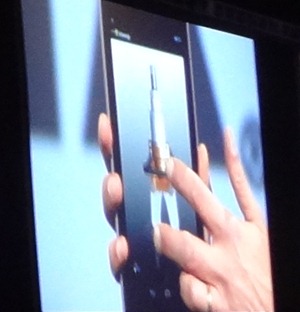 TOP TEN ENHANCEMENT REQUESTS
Next up was Bruce Holway, Product Director R&D, to announce the top 10 enhancement requests.  They were as follows:
Create auxiliary line for dimensioning angles
Draw a line segment starting at the midpoint
External thread wizard for all thread types
Default the Concentric Mate for Axis to Cylindrical Surface
Option for equal spacing on linear patterns
Provide a version of eDrawings mobile app for Android devices
Cylindrical mates need an option to lock rotation
Slot Mate
Ability to save SolidWorks files in previous versions – Backwards Compatibility (give it a rest already!)
Make rebuild time faster
WHAT'S NEW IN 2014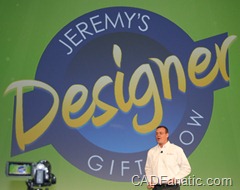 Next up is my favorite part, where they give us a sneak peek at the upcoming version.  This year's skit was "Jeremy's Designer Gift Show", based on an infomercial.  It was pretty funny!
Here is a run-down of what they announced:
DRAWINGS
Replace View Model
Existing View Icons
Display Style Context Menu
High Quality Shaded Views
Angular Running Dimensions
Split Table By Row Count
MODEL DISPLAY
CIRCUITWORKS
CircuitWorks Thermal Properties
Link To SolidWorks Flow Simulation
SKETCHES
Slots In Hole Wizard
Path Length Dimension
Fixed Length Spline
Style Spline
Replace Sketch Entities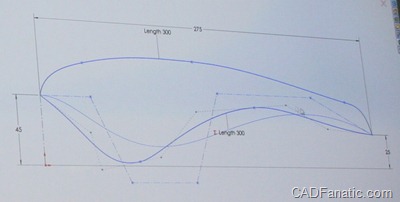 ELECTRICAL ROUTING
SolidWorks Electrical Harness
Reuse Existing Harness
Clips In Flattened Representation
Colored Connector Pins
SIMULATION
Bolt Mapping
Results Symmetry
Residual Stress From SolidWorks Plastics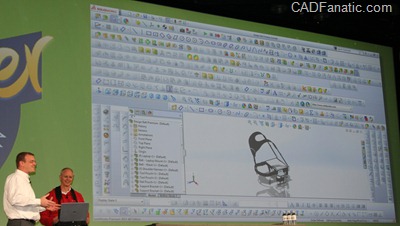 UI ENHANCEMENTS
Environment Themes
History Folder
Flexible Assemblies Context Menu
Streamlined Save As Copy
eDRAWINGS
eDrawings With Augmented Reality
SHEET METAL
Sheet Metal Corner Gussets
Lofted Bend Transitions
ASSEMBLIES
Smart Mate Delay
Feature Driven Component Pattern
Rotate Exploded Views
Quick Mate Context Menu
I will go into a little more detail on some of these features at a later date.
SOLIDWORKS WORLD 2014
Bertrand Sicot then took the stage to say goodbyes and announce next year's SolidWorks World venue.  They are headed back to San Diego on January 26-29, 2014.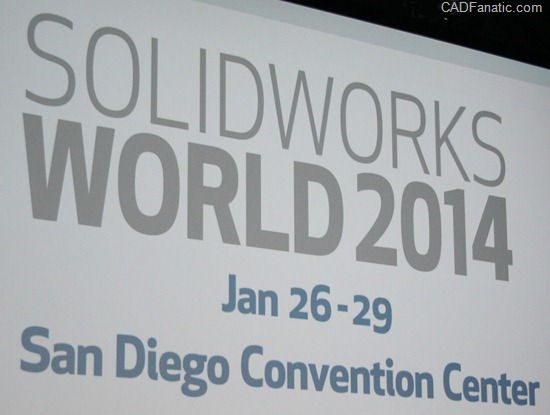 Image credit for eDrawings on Android courtesy Ricky Jordan.
DISCLOSURE: DS SolidWorks Corp paid for my conference fee, lodging, and some meals.