SolidWorks World 2013 – Tuesday General Session
22 January 2013
No Comment
Tuesday's General Session opened with Fielder Hiss, VP of Product Management taking the stage.  Hiss talked about how SolidWorks had been working with Intel on creating better experiences for users.  Frank Soqui, Workstation General Manager from Intel was then brought up on stage to give a short talk.
BETA AWARDS
Time to talk Beta – there were 4000 activations for the SolidWorks 2013 Beta program.  Hiss then announced the winners of the SolidWorks Beta 2013 Awards.
Reseller awards were announced first.  Here are the results:

Customer awards were announced next.  This year was a first; the first triple-crown winner!

SWUGN AWARDS
Richard Doyle, Interactive Communications, User Groups and Online Communities, took the stage next to talk user groups and announce the SWUGN Awards.


Anna Wood received the Michelle Pillars award.  SolidWorks User Group of New York City received the User Group of the Year award.
Then an emotional event for many, former SWUGN Leader Wayne Tiffany, who was an inspiration for so many and taken from this world too soon, was remembered.  His sons, Michael and Josh, are in attendance at World, and they said a few words.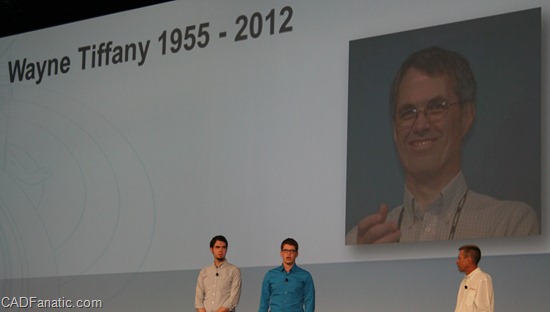 Michael and Josh then announced the User Group Leader of the Year Award in Memory of Wayne Tiffany was presented to Peter Fischer.
STAY TUNED FOR A WORD FROM OUR SPONSORS
Rob Herman, Director of Product Marketing and Vertical Solutions at Lenovo, was brought on stage to pimp their systems.
ARE YOU CERTIFIABLE?
Next up was Mike Puckett and Avelino Rochino from the SolidWorks Certification Team.  Here is a nice graphic showing the history of the SolidWorks Certification tests (click to embiggen):


Then they announced a new certification, Advanced Drawing Tools Specialist (CSWPDRWT):

And now, if you so desire, you can link your SolidWorks certifications into LinkedIn: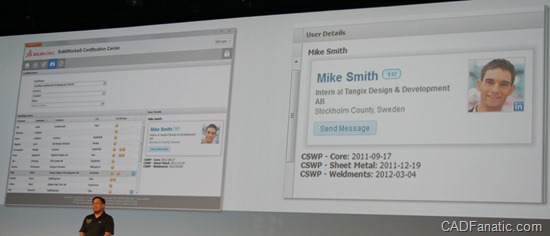 FLYING ROBOTS!
Professor Vijay Kumar from the University of Pennsylvania School of Engineering and Applied Sciences was up next to demonstrate his flying quadrotor robots (plus we got a quick math refresher):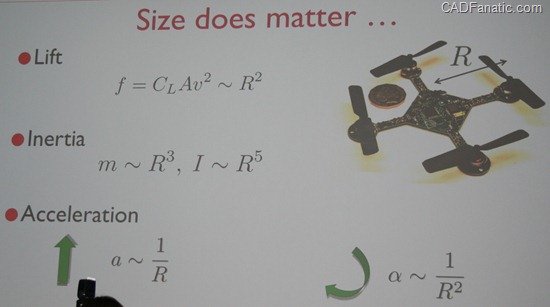 The robots are designed in minute detail in SolidWorks so that the mass properties are accurately represented.  They can talk to each other and mimic a swarm mentality as seen in some animal species in nature.  They can work together to accomplish tasks, and their usefulness in search and rescue operations were shown.
IT'S BIONIC
Rick Chin, Director of Product Innovation, took the stage to talk biomimickry.  Chin introduced Elias Knubben, Head of Corporate Bionic Projects at Festo.  Festo created a division called the Bionic Learning Network, and they are coming up with some pretty cool tech like the Bionic Handling Assistant, the ExoHand, and the SmartBird.



They look to nature for inspiration on how to solve interesting problems:
They also like to fly remote-controlled birds over large crowds of people:
Image credits to Festo.
DISCLOSURE: DS SolidWorks Corp paid for my conference fee, lodging, and some meals.