SolidWorks World 2012 – Monday General Session
14 February 2012
2 Comments

The Monday General Session of SolidWorks World 2012 opened with Bertrand Sicot, SolidWorks CEO, taking the stage.  He gave some numbers regarding attendees and SolidWorks users:
There were 4300 attendees in 2008. This year there are 5650 people attending from 33 countries. There are now 1.7 million users in the SolidWorks community. He said that if they were to create a city of all the SolidWorks users, it would be the fourth largest city in America.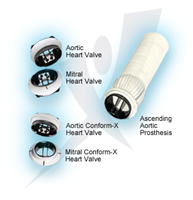 Sicot then mentioned Daniel Hertzberg, who was the previous SolidWorks intern and is now an engineer and user group leader in Virginia, who had an issue with his heart valve. He found out the heart valve that he would be receiving was designed by a company called on On-X Life Technologies using SolidWorks. Most artificial heart valve recipients require the use of blood thinners for the rest of their lives, but these new heart valves were designed such that blood thinners were not needed.
I FEEL SO DIRTY!

Sicot then brought out Mike Rowe, host of Discovery Channel's Dirty Jobs and CEO of mikeroweWORKS.com. Mike talked about how the show came about in that it was a tribute to his grandfather. There were originally only three shows, but after the first show aired he receives so much mail that was made into a series. He said that they have now shot over150 episodes with 300 dirty jobs and have filmed in all 50 states.
You may have seen the public service announcements Mike has made in regards to unemployment and the need for certain skill sets. He said the lines between white-collar and blue-collar were blurring in his opinion.
R&D IN DA' HOUSE!
Sicot referenced the R&D team and introduced the new VP of Research and Development Gian Paolo Bassi.
Sicot mentioned that they had gotten great feedback on some new features introduced last year including the Manufacturing Costing, Large Design Review, and a few small "delighters", such as the enhanced Equation dialogue and Magnetic Lines.
Some given data points:
Stability has been dramatically on the increase since 2009.
DraftSight has been downloaded more than 2 million times since being announced in 2010.
The number of Certified SolidWorks Professionals (CSWP's) has crossed the 50000 threshold.
According to monster.com, the number of SolidWorks positions out there dwarf those for Creo & Pro/E, Autodesk Inventor, and Solid Edge.
Over 200 enhancements have been fulfilled (90% of which were customer-driven).

Sicot said that V6 is coming next year, but he stressed that there would be no change in data format and customers would be able to choose whichever platform best met their needs.  He iterated that there would be no push; customers will be able to move when they see fit, and that "the transition would be seamless".
DON'T TRIP ON THE CABLE!
Bernard Charlès next took the stage and introduced Dr. Maia Hoeberechts, Research Theme Integrator for NEPTUNE Canada:
"The NEPTUNE Canada regional cabled ocean network, located in the Northeast Pacific, is part of the Ocean Networks Canada (ONC) Observatory. Our network extends the internet from the rocky coast to the deep abyss. We gather live data and video from instruments on the seafloor, making them freely available to the world, 24/7."

They rely upon the community to help the researchers sift through the vast ocean (pun intended) of data gathered to monitor mineral and gas deposits and also sea life.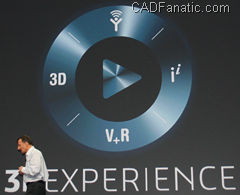 3DEXPERIENCE
Charlès then showed this kind of weird compass looking logo for 3DEXPERIENCE, the new symbol for Dassault Systèmes. 3D is a universal language, the icon on top is community, ii is for the Internet, and I don't think he mentioned what the V+R stood for…

They also have a new trademark, IF WE.  "IF WE ask the right questions, we can change the world."  They showed a cool inspiring video to go along with it.
IT'S GETTIN' HOT IN HERRE!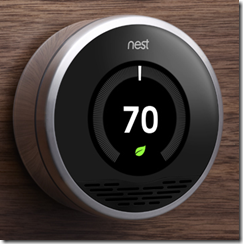 Next, Joe Dunne, Director Product Management, took the stage, and introduced Tony Fadell, Founder and CEO of Nest Labs, Inc. Tony is also "the father of the iPod", and ended up working at Apple after being turned down by other vendors.  Tony created Nest Labs to design and market the Nest Learning Thermostat.  Not only is it a thermostat, it is a beautiful piece of art that immediately brings to mind an iPhone or iPod Touch.
It is on the pricey side at $249, but it learns your habits and also has sensors that can determine if you are out and it will adjust the temperature accordingly to help lower your power consumption and your utility bill.  You can also control it remotely using an iOS app.
If you want one, you are out of luck, as it is currently out of stock.  Fadell said they went through 5 months of stock in 72 hours.
DISCLOSURE: DS SolidWorks Corp paid for my conference fee (as a user group leader), lodging, and some meals.