SolidWorks World 2011 – Tuesday General Session
25 January 2011
No Comment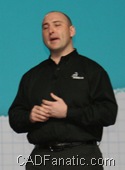 Today's General Session started off with Fielder Hiss, Vice President of Product Management at DS SolidWorks Corporation, taking the stage.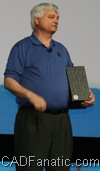 He recapped yesterday's session with Gene Kranz and Captain Jim Lovell.
Fielder then recognized HP, one of the conference's Platinum sponsors.  Tom Salomone, HP's Worldwide Marketing Manager for MCAD, took the stage for a few words.
SWGUN AWARDS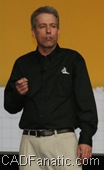 First up was Richard Doyle, User Community Manager for DS SolidWorks Corp.  Richard talked about the SolidWorks User Group Network (SWUGN), which is the global community of SolidWorks users.  There are currently 195 user group chapters in 27 countries!  If you aren't already a member of a local SolidWorks user group, you are missing out!  If there is not one near you, why not get one started?  A user group is one of the best sources of support for SolidWorks users.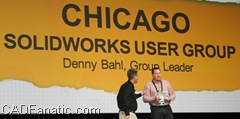 Next, Richard presented the SWUGN Awards.  The award for User Group of the Year was presented to the Chicago SolidWorks User Group, Denny Bahl, Group Leader.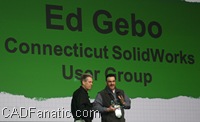 The award for User Group Leader of the Year was presented to Ed Gebo from the Connecticut SolidWorks User Group.
SWUGN TRIBUTE

Phil Sluder, owner of Triaxial Design and Analysis, then took the stage to say a few words about Michelle Pillars.  Michelle was one of the founding members of SWUGN (originally called SNUG) and was taken from this life too soon by cancer.
Phil talked of his relationship with Michelle,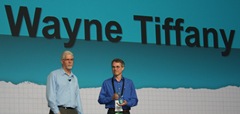 and how much she did for the SolidWorks User Community.   I never personally met her, but she seemed like a great mentor, and an awesome person to have known.
A new yearly award was announced, the Michelle Pillars SWUGN Community Award.  Wayne Tiffany received the award this year.
CUSTOMER FOCUS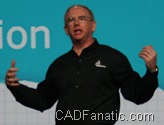 Then Jon Hirschtick, Founder & Group Executive of DS SolidWorks Corp, took the stage.  He brought up three different companies up on stage to talk about their companies, their products, and why they do what they do.
Barrett Technology, Inc.
First up was Bill Townsend, Founder, President & CEO of Barrett Technology, Inc.  Barrett Technology designs and builds robotics for the research, medical, and manufacturing industries.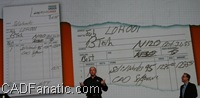 Mr. Townsend also bought the very first seat of SolidWorks!
Robots had been around for years, but they were dangerous, and Mr. Townsend wanted to build robots that could work around people and complement what they do.
The have created several new technologies for robotics, including gearless drives (they use aircraft cables to ensure smooth operation), and they have recently been awarded a patent for the Puck Motor-Drive-Electronics Module, which reduced a small refrigerator-sized electronics box to a device about the diameter of a coin.

The Puck contains all the electronics and reduced the electronics count from 100 wires and 7 motors down to four wires.  They can now run their WAM Arm on five 9V batteries for 20 minutes!
MAKO Surgical Corp.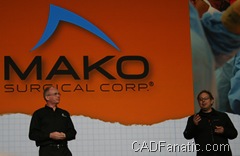 The second company profiled on stage was MAKO Surgical Corp.  Rony Abovitz, Founder and Chief Visionary Officer, said that their focus is on using robotics to assist surgeons with knee and hip replacement and to help people get back up after surgery.  Mr. Abovitz talked of how he worked with a company building parts for knee and hip replacements, and one of his first duties was to attend a surgery.
The doctor made the incision, and then asked Abovitz what to do next.  After determining that the doctor was not joking, he ran down to his car and retrieved the manual from his car (unfortunately, it was in French) and one of his college textbooks.
As the doctor was cutting the femural head off to perform the hip replacement, it flew off and hit Abovitz in the head!  The operation was a success, but he knew that there had to be a better way.
Abovitz said that there have been almost 6000 procedures performed using his robots.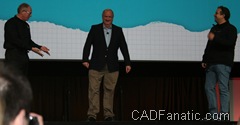 They then brought a patient up , Samuel Brooks, who had had a MAKOplasty knee surgery, and you could not tell from him walking which knee it was.  He had bone-on-bone arthritis, and was very sedentary.  He said that two hours after the surgery, he was up moving around the room, and three days after, he was playing golf!
Talk about an emotional paycheck!
Local Motors
The final company profiled was Local Motors, a site where open-source design is used to design new cars that can then be ordered and built.  Mike Pisani, Senior Vehicle Engineer & Head Builder Trainer, took the stage to talk about their concept and processes.
Basically, they will set up a micro-factory, and you can order and build your own car over three 2-day weekends!  The video shown onstage was very interesting, and I highly recommend checking the site out!
BIONIC BUILDERS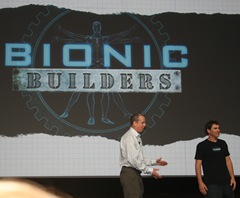 Darren Henry, Director of Marketing for DS SolidWorks Corp, took the stage next to introduce the special guests for today, Casey Pieretti and Bill Spracher, hosts of the new Discovery Channel series, Bionic Builders.  The show is focused on building prosthetics for handicapped people that will enable them to live a normal full life.
Casey works as a stuntman, and Bill is an engineer.  They come with new prosthetics for Casey and others to enable them to do the activities that they wish to do, such as diving and rock climbing.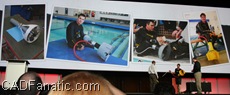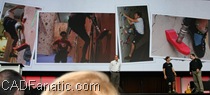 Fittingly, their motto is, "Who Do You Want To Be Today?"
DISCLOSURE:  DS SolidWorks Corp paid for my conference fee, lodging, and some meals.