SolidWorks World 2011 – Monday General Session
25 January 2011
2 Comments

SolidWorks World 2011 kicked off this year in San Antonio, TX, with Jeff Ray, the former CEO of Dassault Systèmes SolidWorks Corporation and the new Executive Vice President, Geographic Operations, Dassault Systèmes, taking the stage.
Year In Review

Jeff started off talking about the trapped Chilean miners, and how people from around the world rushed to offer help.  He mentioned Schramm, who drilled the first tunnel that found the miners, and they also drilled the "Plan B" tunnel.

He also mentioned Center Rock, Inc. (CRI), who manufactured the drill bit used.  When the bit broke down due to the hardness of the rock, CRI designed a new bit onsite in SolidWorks.  The design was sent back to their facility in Pennsylvania and turned around in a few days (a process that normally takes around 4 weeks).
People Helping People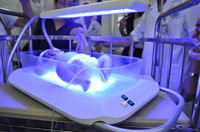 He also mentioned Design That Matters (DtM), a group showcased two years ago at SolidWorks World 2009.  Their NeoNuture incubator was shown then, and it was listed as one of the top 50 inventions of 2010 by Time Magazine.  This year, they had their Project Firefly onstage, a device to help combat infant jaundice.
Jeff then acknowledged several different groups of people, including the 100 folks who passed the CSWP exam yesterday.
The Drive To Design
He then showed the moving video, Drive To Design. This short work chronicles the life of a fictional engineer, from childhood to adulthood, and shows some of the steps that lead him to his vocation.  It shows the impact that you as an engineer or designer can have on others, oftentimes unbeknownst to you.
A New Sheriff In Town…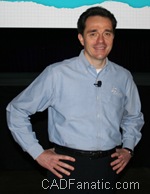 Jeff then handed the reins over to DS SolidWorks Corp's new CEO, Bertrand Sicot.  Bertrand said that when SolidWorks 2011 was released, they thought that the most favorite feature would be the new memory management, but that customers had told them that their favorite feature was Defeature.
DraftSight was mentioned and some numbers were given:  300,000 downloads and over 60,000 activations.
Clarifying "The Cloud" (or, Setting The Record Straight)
He then spoke of last year's "cloud" announcement, and reiterated that they would support desktop, online, and mobile platforms.  In order to dispel some of the rumors that have been circulating online over the past year, he said, "We will always have locally-installed desktop CAD."
He then talked about the new n!Fuze tool they announced last week.  n!Fuze is a new data management tool geared towards small companies and independent users.
Second Life for CAD?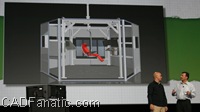 Bernard Charlès, President and CEO of Dassault Systèmes, then took the stage, along with Jeremy Luchini, host of Let's Go Design. They showed another new tool, Post3D.   Post3D is kind of like Second Life for CAD; you are able to upload your design and then do a contextual design review by performing a walk-through online, operating the

system as you would in real life.  This is great for design reviews, or marketing your product online to potential customers!
Here is a video of Post3D in action:
"Houston, We Have A Problem…"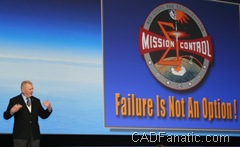 Then the guest speakers took the stage.  First up was Gene Kranz, Mission Control Director at NASA during the Apollo 13 mission.  He talked of how NASA rose to the challenge put forth by John F. Kennedy to put a man on the moon.  He talked of the early days, and went through the Mercury and Gemini projects, and into the Apollo era.  He said, "Chemistry is a force amplifier," speaking of how critical it is to get to know and trust the other members of your team.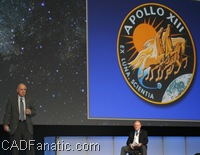 He went through the Apollo 13 mission until he got to the famous transmission uttered by Apollo 13 Captain Jim Lovell: "Houston, we have a problem…"  Then Captain Lovell joined Kranz onstage and continued the story from his point of view.  He made reference to Gene Kranz's motto, "Failure is not an option," and said that in their mind, "Success was the only option!"
Captain Lovell wrapped up by stating that there are three types of people:
Those who make things happen,
Those who watch things happen, and
Those who wonder what happened.
It was amazing to hear these two speak of their experiences!
SolidWorks' Keynote Video
Here is a video of the General Session SolidWorks' keynote:
DISCLOSURE: DS SolidWorks Corp paid for my conference fee, lodging, and some meals.