SolidWorks 2011 Launched
1 September 2010
No Comment
The latest release of SolidWorks, 2011, launched today.  If you have had a chance to look through the SolidWorks 2011 Beta What's New, you may have noticed that there isn't as many flashy new features as in previous versions.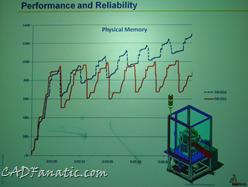 According to SolidWorks' Shaun Murphy, much of the focus of SolidWorks 2011 has been on the top two customer requests:
We all know the drill from previous versions: you open a few files, close them, open some more, change some features, create a drawing, etc.  The amount of system RAM slowly dwindles to nothing, and it's time to restart SolidWorks, or maybe even reboot your computer.  However, in SolidWorks 2011, they have worked on the memory management in SolidWorks 2011, resulting in a lower memory footprint.
Shaun made the statement that they believe that the SolidWorks 2011 SP0 performance and reliability is equivalent to that of SolidWorks 2010 SP4.  He also mentioned that during the Beta testing for SolidWorks 2011, there have been relatively few crashes reported.
There have been numerous tweaks and refinements to multiple aspects of the SolidWorks product line.  There are however, a few great new features in this release, such as
PhotoView 360 integration in SolidWorks 2011
Grid System (useful for Weldments/Architecture)
HVAC and Electronics add on modules for Flow Simulation
Routing Library Manager for Piping
Defeature (removes detail from assemblies)
Walk Through.
A few questions came up in the meeting with SolidWorks.  A question was asked about the UI shown at SolidWorks World 2010 when they showed their cloud technology preview.  Shaun responded that they were always experimenting with different UI's, and that most were never seen.  On the topic of the relationship with their parent company, Dassault Systémes (DSS), it was said that the closer relationship with DSS enables SolidWorks to leverage technology, and provides opportunities to move to other technologies.  Shaun did say, however, that they did not want to introduce anything that would sacrifice the SolidWorks experience.
The question of a Catia translator was brought up, and Shaun said that SolidWorks was working actively to get a Catia translator.  That this issue has persisted for so long while many of their competitors already have Catia translators continues to be a black eye for SolidWorks.  I did get the feeling from the response that this is out of SolidWorks' hands, as I have long suspected.
I will have follow-on posts covering the new features and enhancements in more detail following shortly.
DISCLOSURE: DS SolidWorks Corp paid for my airfare, lodging, and some meals.