SolidWorks World 2010 – Wednesday General Session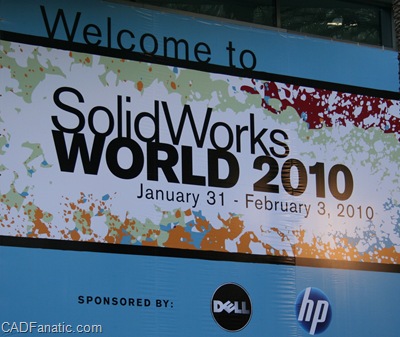 Wednesday's General Session opened with Fielder Hiss, VP of Product Management, taking the stage once again.  Fielder announced the launch of an online SolidWorks store, where one can purchase swag, such as shirts and caps, along with a few books.  The pickings are a little sparse right now, but hopefully more resources will be added soon.
TOP TEN ENHANCEMENT IDEAS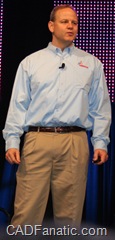 Bruce Holway, Director of Product Definition, was up next to announce this year's top ten enhancement ideas.  Some recent examples of enhancement ideas that have been added recently are:
Recreate all mates when mirroring components
Ability to rename configurations while referenced
Provide more options to create reference planes
Faster rebuilds on complex models
Excel behavior in tables
Reference zero in parent view (when baseline dimensioning a detail view, for instance)
Ten members of the product definition team were brought up onto stage to name the enhancements. 
The top ten enhancements are as follows:
Simplify Video Card Requirements
Exploded Views For Weldments
Option To Dangle Children Instead Of Deleting
Graphical Map Of References
Allow More Types Of Assembly Features
Better Utilize All Processor Cores
On The Fly Equations In Dialogue Boxes
File Compatibility Between Versions
Increase Stability
And the number one enhancement idea is:
SolidWorks Should Cleanly Uninstall Itself
MODEL MANIA 2010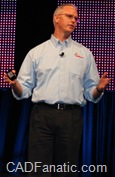 Next up was Mark Schneider, Product Manager, to talk about the Model Mania 2010 contest.  Mark showed the drawings from the contest (sheet 1, sheet 2) and then a high-speed video showing the building of the model.  Mark mentioned several times about using Contour Selection to Boss/Cut Extrude.  This is something that I don't do much of, but it really made a difference in the ease and speed with which the model was constructed.
He then announced the winners of the Model Mania 2010 contest.  The prizes were PNY NVIDIA Quadro FX graphics boards (a 4800 for 1st, a 3800 for 2nd, and an 1800 for 3rd)
On the customer side, the winners were:
Nick Vande Waerdt – Kooima Company (18:29)
Todd Newhouse – Cyan Optics
Michael Hess – mhda
On the reseller side, the winners were:
Jeremiah Davis – ModernTech Mechanical (18:03)
Jason Pancoast – CAPINC
Neil Custard – GoEngineer
SWUGN AWARDS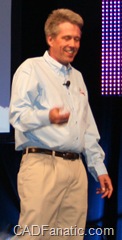 Richard Doyle took the stage next to talk user groups and to announce the SolidWorks User Group Network (SWUGN) Awards.  There are now 175 local SolidWorks User Group chapters in 23 countries.  More than 10,000 people attend SolidWorks user groups annually.  Richard announced that this year was the 10th anniversary of the SWUGN Committee, and then introduced the 2010/2011 SWUGN Committee.
Then Mark Peters, VP of Business Development at IMPACT Engineering Solutions (and one of the four original members of the first SWUGN Committee), joined Richard on stage to present the SWUGN awards:
2009 User Group of the Year – Cindy Berend of the New Hampshire SolidWorks User Group
2009 User Group Leader of the Year – Anne Yust of the Twin Cities Simulation User Group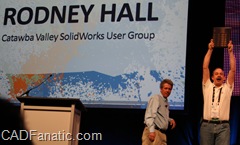 The SWUGN Lifetime Achievement Award was awarded to Rodney Hall of the Catawba Valley SolidWorks User Group (right).
WHAT'S NEW IN 2011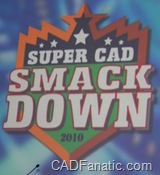 Now we come to everyone's favorite part, the sneak preview of the upcoming SolidWorks release!  This year, SolidWorks returned to their funny skits to show off some of the new features coming in SolidWorks 2011.  This year's theme was "SUPER CAD SMACK DOWN", a contest in which two opponents vied to be the best and fastest CAD jock.
Jeremy "Big Rig" Regenerus and Ian "The Sledge Hammer" Hogg faced off with Darren Henry and Neil Cooke calling the plays and Mark Schneider refereeing: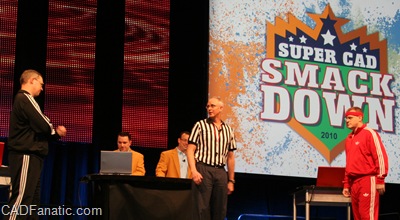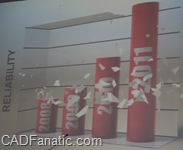 They said that the performance of SolidWorks has been improved, resulting in increased reliability and lower memory usage.  They showed an image of a machine with a 460MB savings in memory utilization in SolidWorks 2011 versus 2010.
The new features of SolidWorks 2011 that they highlighted were:
Revolve Up To Surface – Allows selection of a surface to terminate a revolve feature.
Defeature – Allows conversion of an assembly to a dumb (i.e., featureless) part file consisting of only the outside surfaces.  This will be very useful when sending files outside your company or sharing online.  It is a feature in the tree, which means that it is an editable item.  Also shown was an option to upload the resulting model to 3D ContentCentral.
Custom RealView – More appearance options and settings are available, similar to what is currently offered in PhotoWorks.
PhotoView 360 Integration – As you may have heard, PhotoWorks will cease to exist in SolidWorks 2011.  Taking it's place is PhotoView 360, and there have been some big  improvements since it was introduced.  You can now open a PhotoView 360 preview window in SolidWorks, and it will give you a real-time rendering as you work in SolidWorks.  It is more integrated with SolidWorks, and you can also render motion.
Planar Simulation – You can run a simulation on a 2D section of a model.  If the part is symmetric or round, for instance, you can then project the results onto the 3D model.
Dimension Layout Improvements – There is now more intelligence when dimensions are inserted into a drawing from the model and when moving existing drawing dimensions.
Dual Dimension Hole Tables – Hole tables in drawings now support dual dimensions.
Enterprise PDM Design Checker Task – The SolidWorks Design Checker is now integrated into Enterprise PDM and can be called in a workflow transition.
Lightweight Welds – Welds in an assembly can now be "virtual" parts residing in the assembly file.
Weld Tables – A table of all the welds in a weldment can now be shown in drawings.
Piping Enhancements – Piping Routing now features weld gaps that will automatically adjust pipe route lengths to account for welds.
Walk Through – Allows you to do a walk or fly through, as well as add an image, such as a person or vehicle, to the screen.
The contest ended in a tie, so there was a tie-breaker held.  Jeremy nailed the win with the final new feature shown:
Feature Lock – Allows all features preceding this command to be locked and not rebuilt.  Very nice to have on large, complicated parts!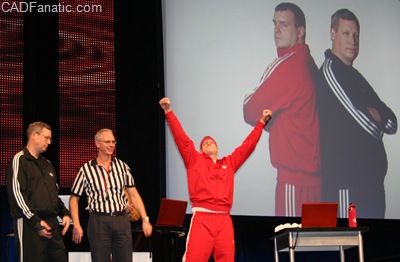 CLOSING REMARKS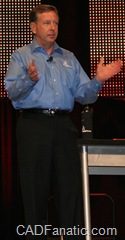 SolidWorks CEO Jeff Ray took the stage for the closing remarks.  He said that they will link SolidWorks to Enovia V6 in the cloud (I heard the term "SolidWorks V6" used several times).  They showed a demo of an online tool called "3DswYmer" that is the cloud interface to Enovia V6.
Jeff also announced two new products, SolidWorks PDM and SolidWorks Product Data Sharing.  The Enovia V6 backbone interface and SolidWorks Product Data Sharing will be shipping later this year.
Jeff said that SolidWorks will deliver more technology in the next 2-1/2 years than they have in the last 15!
SOLIDWORKS WORLD 2011
Next year, SolidWorks World 2011 will be held at the Henry B. Gonzalez Convention Center in San Antonio, TX, on January 23-26, 2011.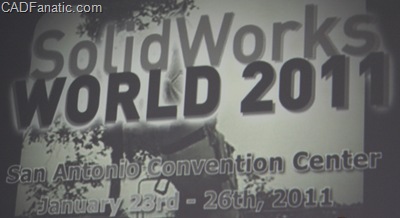 SUMMARY
The closing slide of the General Session was a quote from Lauren Bacall:  "Standing still is the fastest way of moving backwards in a rapidly changing world."  It is obvious that SolidWorks is not standing still, and is continuing to push the envelope.
So there you have it!  SolidWorks World 2010 has come to an end…  Be sure and check out my Flickr photostream for all the pictures I took from the conference.  I have pretty complete coverage of the Product Design Showcase from the Partner Pavilion, with pictures of just about every product that was on display and it's information card.  I hope that in some little way I helped give those that were not able to make it to Anaheim some feeling for the excitement and energy that was SolidWorks World 2010!
(OK, so wow, I'm late!  Sorry for the delay in posting my Wednesday General Session wrap-up; I had computer issues while on the trip, and needed to wait to get some data off; also, it was hard to find time due to workload after getting back and family priorities.)
DISCLOSURE:  DS SolidWorks Corp paid for my conference fee, lodging, and some meals.