That Looks Like A Mac!
1 February 2010
2 Comments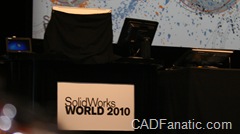 At the start of the SolidWorks World 2010 General Session this morning, there were several computers on a table.  A netbook, a regular monitor, what looked to be a Wacom tablet, and some big monitor with a cloth draped around the back.  I thought to myself, "That looks like a Mac…".
One of the cries from some of the users here lately has been about porting SolidWorks to the Mac (and also Linux).  Could it be that SolidWorks was going to announce ports to other operating systems?
As it turns out, it WAS a Mac!  And SolidWorks used it (and the other machines) to show a rare technology preview today…  Codenamed "Avalanche" (and from a quick screen view, I believe it's called "App"), it is new cloud technology from SolidWorks.  It allows one to access data from anywhere in the cloud; all that's required is an internet connection.  It looked pretty well fleshed out.
What excited me even more than seeing a SolidWorks product running on a Mac was what they showed on the tablet: they demoed multi-touch functionality that looked really sweet!  Add that with multiple OS support, and you can see where they are headed with this: data access anywhere, anytime.

 
And of course, they were able to run the app on the netbook and access the data from the cloud (they also showed access on an iPhone/iPod Touch).
Here is a video with Austin O'Malley and Fielder Hiss discussing the new technologies that were shown in the General Session this morning:
Austin and Fielder discuss the new technologies shown during the Monday general session at SolidWorks World 2010.
While I think that there are still some kinks to be worked out, and I know there are certain systems and data that can never be on the cloud, it is exciting to see this much progress already made in this direction.  Some of us think that there is a possibility of running your own server to provide a cloud for your network.  What do you think?
I will have more information on this in my article on today's General Session.
DISCLOSURE:  DS SolidWorks Corp paid for my conference fee, lodging, and some meals.