SolidWorks World 2010 – Tuesday General Session
9 February 2010
5 Comments
Tuesday's General Session opened with Fielder Hiss, VP of Product Management, taking the stage.  He introduced SolidWorks Certification Specialists Mike Puckett and Avelino Rochino to talk about the various certifications that SolidWorks offers.
They announced that with the certifications added on Sunday, that there were now over 25,000 users with Certified SolidWorks Associate (CSWA) or Certified SolidWorks Professional (CSWP)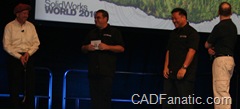 certifications.  They then called SolidWorks CEO Jeff Ray to the stage to participate in a "Certification Hole in One" putting contest in which an attendee (in this case, a Smith & Wesson employee) could win one of the TEAM Associated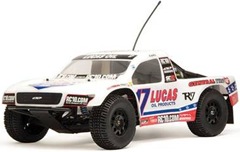 Short Course (SC)-10 RC trucks that were featured at Monday night's CSWP event.
Mike and Avelino then announced a new certification, the Certified SolidWorks Expert (CSWE) exam, available as of that morning.  Among the topics covered in the exam were multi-bodies, sweeps, lofts, belts/chains, curves, in-context assemblies, and springs.  In order to take the exam, a user must meet the two prerequisites of successfully passing the CSWP exam and three advanced topic exams.  There is no example exam, and if you do not pass it, you must wait at least 90 days before attempting it again.
Fielder then took the stage again and talked of 2 customers and how they were using SolidWorks to develop their designs: Edd China's Cummfy Banana, designer of street-legal furniture; and Alan Metni's SkyVenture, an indoor skydiving wind tunnel design company based in Austin, TX.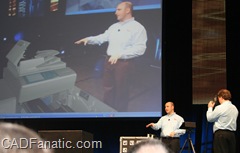 Fielder then demoed a virtual-reality product from Canon that allows one to interact with a CAD model and view it as situated in the real world.  He also mentioned another product that was shown in the Partner Pavilion, the Infinite Z 3D system.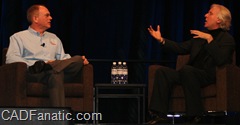 Next up was Tuesday's special guest, writer, producer, and director James Cameron.  Instead of a keynote speech, SolidWorks co-founder Jon Hirschtick did an interview with him onstage.
James Cameron is best known for his work in blockbusters such as Aliens; the Terminator franchise; Titanic; and most recently, Avatar.  However, he has produced several documentaries and spoke fondly of those experiences.
Cameron said that his documentaries have never made much money, but that the real reward was working with others toward a common goal, and being able to realize the worth of the contributions of each individual.  As a designer and engineer, I totally get where he is coming from.
Cameron mentioned his next big documentary project is a dive to the bottom of the Mariana Trench, the deepest known part of the Earth's oceans.  The pressure at the bottom of the trench approaches 16,000 psi, so they need to design their submersible to meet this crushing requirement.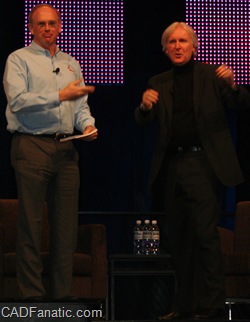 The submersible they are designing is a one-man vehicle, and is as close to a sphere as it can be with viewports and such.  He said that they had ran finite element analysis (FEA) on it and it passed, but they wanted to confirm this, since this will be a manned mission.  They built a prototype and tested it at 16 ksi with strain gauges attached, and he said that the results matched up almost exactly with the analysis results.
Cameron himself and two other people are pilots for the submersible.
He mentioned a sort of ritual he does when starting a new project: he posts a list of three maxims for his crew to see that I think everyone should consider when setting out to do something new:
Hope is not a strategy.
Luck is not a factor.
Fear is not an option.
The thing that got the biggest response from the crowd was when he said that he was a precision tool and die machinist while he was in college.  I think that statement really earned him some street cred with the attendees!
I will have the video of the press conference that immediately followed the General Session available shortly.
DISCLOSURE:  DS SolidWorks Corp paid for my conference fee, lodging, and some meals.
Last edited Friday, August 27, 2010.