OnLive Unveils Gaming On Demand – Will CAD & Other Apps Follow?

Publicly unveiled in late March, OnLive bills itself as "the world's highest performance Games on Demand service."  They purportedly have the technology to stream games, including the latest high-end game titles (such as Crysis Warhead and BioShock) to broadband users.  (For a full list of supported games, click here.)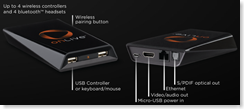 The service will run through the OnLive Microconsole and play on a user's TV, or can be run directly on a Mac or PC.  The founder, Steve Perlman (of WebTV and Apple's QuickTime), says, "The first patents expire in 2022, so we have at least 11 years to establish our business before there is a clone."  Understandably, there has been much skepticism about the claims OnLive is making, but with the support of major game powerhouses such as Electronic Arts, Ubisoft, and Atari, and even NVIDIA, it's clear that this is a serious venture.
So What Does This Have To Do With SolidWorks?
Well, it stands to reason that if OnLive can get games running in such a way that users will no longer have to purchase the software (or specialty hardware to run them), then who's to say that the same can't be done for SolidWorks, or any other app for that matter? Jon Hirschtick even talked about this application as one of his future technology trends in the Tuesday General Session of SolidWorks World 2009 in Orlando, FL, this past February.
If OnLive can get a hardware-intensive game, such as Crysis, up and running online, how hard could it be to get a 3D CAD app, such as SolidWorks, "in the cloud"?  I think this is a very exciting time and this will bring "cloud computing" to a whole new level!  What do you think?
OnLive is currently taking applications for Beta testers (I've already signed up!) and is scheduled to go live in Winter 2009.