SolidWorks World 2009 Proceedings Now Available!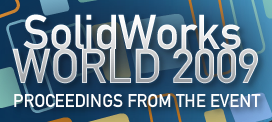 The proceedings from the SolidWorks World 2009 International User Conference and Exposition in Orlando, Florida, are now live! And things are a little different this year… Based on feedback from previous World's, SolidWorks has opened up access to a broader audience and captured more media data to share.
CUSTOMER PORTAL USERS REJOICE!
In year's past, attendees used a unique log-in to access the presentations and files from the conference. This year, SolidWorks is making the proceedings site available to all users with a Customer Portal account. If you do not already have a Customer Portal account, you can create one by visiting the SolidWorks Customer Portal and clicking the link under the "Not a member?" section.
MORE SWW CONTENT & FEATURES!
In addition to the standard presentations and supporting files of previous years, SolidWorks captured video of many of the sessions. These videos are available for streaming from the site. There are also pictures of all the exhibitor booths from the Partner Pavilion. (And remember, all my pictures from the conference, including most of the displays in the Product Design Showcase, are available on my Flickr photostream!)
So, be sure to go to SWW09 proceedings site to access all the SWW goodness. If you have any issues accessing the conference proceedings or have further questions, you can get help by emailing [email protected].
***EDIT***
Some clarification from SolidWorks on the SolidWorks World 2009 proceedings site: 
Login access to content:   Essentially the site is open to anyone who has a customer portal login.    Anyone who went to World will see all of the presentation videos that we recorded.   If you did not attend World we are going to add new video content each week.

We check the e-mail you use to login against a database that we have of e-mails from conference attendees.  (So if your customer portal login uses a different e-mail than the e-mail you used to register for world you won't get full access (but we'll fix this case by case)).
Last edited on 03/11/2009 @ 5:10PM CDT.