SolidWorks 2009 Speed-Up?
Have you moved to SolidWorks 2009 yet?  If you haven't, and need a good reason to do so, then continue reading!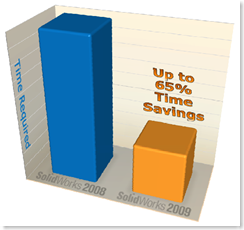 SolidWorks touts the maximum time savings of moving from SolidWorks 2008 to SolidWorks 2009 as 65%.  Is it true?
Well, I have not done any quantitative testing, but I can say that it definitely feels much faster to me; especially in larger assemblies and more complicated parts.  However, a user from our user group did a not-so-scientific test with a representative set of production files, and the results were amazing!
THE TEST
The test was simple:  create a 3-view drawing of a large assembly consisting of 4942 parts.  The results?  It took 3 minutes, 30 seconds in SolidWorks 2008 and – get ready – 45 seconds in SolidWorks 2009!
That is a 4.67X speed increase, or 78.6% faster!
Now, I don't know how controlled this little experiment was, but that is a very measureable increase in speed!  Have you noticed SolidWorks 2009 is speedier?
If you're still on SolidWorks 2008 (or earlier), is this enough of an impetus to upgrade?  There is definitely a time savings to be had!