SolidWorks 2009 SP3 Removes Display State Option?
31 March 2009
15 Comments
Back in early December, I posted an article on Display States and Steve Calvert commented about controlling the visibility of new components:
Brian, I use display states and love them except for the fact that when I add a component I have to go back and remove (hide) it from the already created display states. Do you know a way to add a component and only have it show in certain display states?

Steve Calvert


And I responded: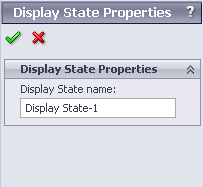 Well, after applying Service Pack 3 yesterday to my SolidWorks 2009 x64 install, I happened to want to control the visibility of some new parts in a new Display State that I had created, and the Option dropdown is gone! (Compare the image to the left to the original image from when I commented.)
I surely hope that this is just an oversight! Are other folks seeing this?