Social Media Comments Coming to a Disqus-enabled Blog Near You!
5 March 2009
125 Comments
Daniel Ha, co-founder and CEO of Disqus, and Pete Cashmore, founder of social media guide Mashable, announced today a partnership between Disqus, Mashable, and comment aggregation service uberVU to enable Social Media Comments on the popular Disqus commenting system.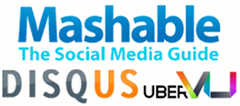 Disqus will use uberVU's technology to scrape the Internet and pull in comments relating to posts.
According to Mashable, the services that will be accessed include Blogger, Digg, Flickr, FriendFeed, Moveable Type, Picasa, Twitter, TypePad, Vimeo, WordPress, and YouTube, with more added over time.  If a post is discussed on any of the above services, those discussions will show up in the Disqus comments of said post.

Additionally, users can choose to send their comments to Twitter by simply checking a box when commenting on a Disqus-enabled blog post.
The new Disqus service can be previewed exclusively at Mashable for the next two weeks, and the general release will follow soon after.
I can't wait to see this new functionality in action.  It will certainly help consolidate, and possibly further stimulate, the conversation across the web that blog posts sometimes initiate.