Sumo vs. Simulation
26 February 2009
4 Comments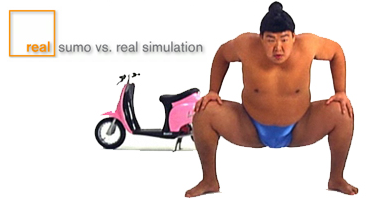 What happens when you pit a 400-pound sumo wrestler against a little pink scooter?  Well, SolidWorks has a pretty funny interactive demo that allows you to see!  This is a recreation of the Simulation skit with the infamous pink scooter and the Sumo wrestler from the Tuesday General Session at SolidWorks World 2009.  There is actually more to see on this page than what they did on stage.
See how the scooter handles the real-world stress, drop, motion, and airflow tests (after all, it IS entirely within the realm of possiblity that a 400-pound Sumo wrestler will want to "borrow" your little pink scooter to ride around the block).  Also, see how you can save time and money by using the full gamut of SolidWorks Simulation tools to simulate the real world cases on your computer, thereby protecting your precious pink scooter from any sumo-inflicted damages.
The only thing missing is Jeff Ray and his pink helmet!