SolidWorks World 2009 – Wednesday General Session
17 February 2009
9 Comments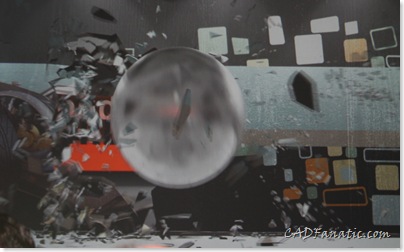 Fielder Hiss, Director of Product Management at SolidWorks, took the stage once again for Wednesday's General Session.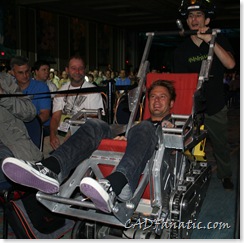 SolidWorks had another surprise in store for everyone, as Joe Grand and Dr. Mike North from the Discovery Channel show, "Prototype This" took the stage.  At first, it seemed as if they were a no-show, then they made their way through the audience from the back of the room on an apparatus they had designed for firefighters to use to transport gear and personnel.
They gave an interesting talk about some of the projects they have worked on for the show, including a "poo" scooper, a 30-foot tall waterslide simulator (a five week project!), and a 6X6 ATV that looked more like a bug than a vehicle.   The most interesting part of their presentation to me was when they were talking about themselves and the producers butting heads over what to actually show.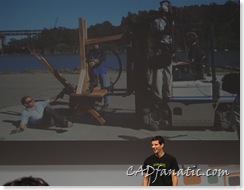 They said that when the show first started, the producers were more concerned about building something, when in reality, there is a lot of background design work, prototyping, and testing that has to occur before you get a finished product.  The guys really wanted to show that process, and that "prototyping is worthwhile, even if it fails".  So in the beginning of the show, it was focused on building, but towards the end of the season, they had gravitated more to showing the design process.
TOP TEN ENHANCEMENT IDEAS
Next up was Bruce Holway, Manager of Product Definition at SolidWorks, to introduce the top ten enhancement ideas for SolidWorks.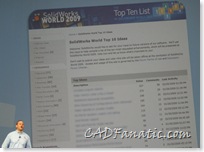 Of course, this year, everyone already had access to this information through Brainstorm (Customer Portal log-in required), SolidWorks' new customer enhancement request site.  Bruce also gave some recent examples of the top enhancement implementation in SolidWorks 2009:
Slot tool in sketch
Clearance-check in assemblies (similar to interference detection)
Retain dimension in drawing views of mirrored parts
Propagate assembly features back into parts as part features
Title block wizard
The actual top ten enhancement ideas were read to the crowd one by one by SolidWorks User Group Network (SWUGN) user group leaders.  They are:
And the number one enhancement idea is:
SWUGN AWARDS
The next speaker was Richard Doyle, who introduced the current SWUGN representatives.  Then the SWUGN Awards were handed out:
2008 User Group of the Year – Tom Cote of the Central MA/Northern CT SolidWorks User Group
2008 User Group Leader of the Year – Rob Jenson of the Southern Minnesota SolidWorks User Group
Two Lifetime Achievement Awards were given:
MODEL MANIA 2009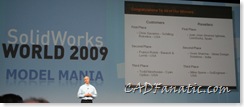 Mark Schneider, Product Manager at SolidWorks, was next on stage to announce the SolidWorks World 2009 Model Mania contest winners in the Customer and Reseller categories.  (Please click the inline graphic to view the names.)  This was the first year that I competed in the Model Mania contest; I got the part modeled and the simulation set up, but I was unable to get the drafts applied correctly.  This is an area where I need to work on, as the parts I designed are usually machined prismatic parts or sheet metal, and require no drafts.  Mark was also going to demonstrate how to model the part, but unfortunately there was some sort of error and the model shown in his presentation was from last year's SolidWorks World conference.
WHAT'S NEW IN 2010

Next up was what everyone was waiting for – What's New in SolidWorks 2010!  SolidWorks usually does an elaborate skit to add some levity into the What's New presentation, but they changed things up this year.  Ian Hogg, Product Marketing Manager for SolidWorks, joined Mark on stage, and they brought up a couple of customers on stage and showed their designs, and then proceeded to demonstrate some of the new and improved features of SolidWorks 2010 that would help in their design efforts.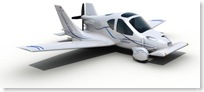 The first customers were Samuel Schweighart and Gregor Cadman of Terrafugia, creators of the Transition®, which is a "roadable light sport aircraft" or, a flying car with foldable wings.
To help Terrafugia, they suggested the following new or updated tools:
New View Mate tool
Updated Mirror Components tool
Updated Design Study Optimization tool that will enable users to run an optimization or design scenario and review the result plots of any configurations run by using a slider-bar interface.
Multi-bodies in the sheet metal environment, with each body able to be flattened independently
Ability to mix sheet metal and weldment features
Better DXF output for sheet metal flat patterns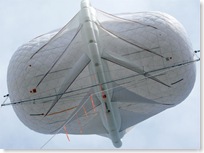 Next, Jeremy Regnerus and and Neil Cooke, Product Marketing Managers for SolidWorks, took the stage and introduced the next customer, Matthew Wilkins of Magenn Power, creators of the Magenn Air Rotor System (MARS).  MARS is a portable lighter-than-air tethered wind turbine that can reach altitudes of 1000 feet.
To help Magenn, they suggested the following new or updated tools:
New Assembly Visualization tool
New Property Manager Builder
New Drawing Annotation tools, such as the ability to attach GD&T frames anywhere to dimensions, drag and drop notes into others to combine them, an option to show quantity next to balloons, and Excel functionality throughout all tables, including BOM's
New Drawing Productivity tools, such as a new heads-up display for changing dimensions, ordinate dimensions can span to detail views, and stacked dimensions will move when adding new dimensions to keep the proper alignment
New Direct Editing tools that allow users to use Instant 3D to drag faces on imported parts and will recognize hole patterns (features are created in the FeatureManager tree using these tools)
New Enterprise PDM (EPDM) functionality that will allow EPDM to manage and replicate all Toolbox components, and you can manage certain processes (such as file conversion) by spawning them to the EPDM server
Sage, a new sustainable product tool developed in collaboration with PE International that can help designers and engineers pick alternate materials and do design comparisons to help lessen the environmental impact of their designs.
Jeff Ray took the stage and announced that Sage will be available in an "Xpress" version with every license of SolidWorks.  The add-on will actually be available in the coming months prior to the release of SolidWorks 2010 at SolidWorks Labs.
SOLIDWORKS 2010
Jeff Ray announced the dates and location for SolidWorks World 2010.  The next conference will be held at the Anaheim Convention Center in Anaheim, CA on January 31-February 3, 2010.  I wonder where the offsite event will be?  😉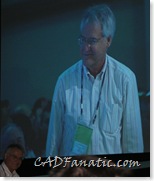 Jeff then introduced Dr. Dave Gossard, who was SolidWorks co-founder Jon Hirschtick's CAD instructor at MIT.  Dr. Gossard was in attendance, and they showed this early video clip of him demonstrating the CAD system they had developed.  (I tried to find a link to the video, but had no luck; I have seen it online before though.)
Next up was a short video showing full machine simulation running inside of SolidWorks with the integration of National Instruments LabView.
SOLIDWORKS ENGINEERING STIMULUS PACKAGE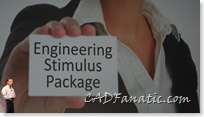 Jeff then made an announcement that SolidWorks will be offering an "Engineering Stimulus Package" that will provide out-of-work engineers and designers with free SolidWorks software, free training, and a free try at the CSWA exam.  SolidWorks is partnering with it's reseller channel to offer this generous service.  It will initially be rolled out in North America, and then world-wide.
SOLIDWORKS AND EDUCATION
Next, Jeff talked education, and mentioned that there were 25,000 schools worldwide using SolidWorks.  They have delivered 18,000 seats to 900 schools in Ireland and are working to help "develop master instructors to go out and train others".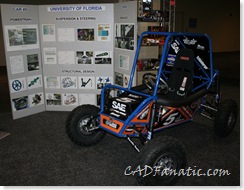 He also mentioned the University of Florida (UF) and how they were using SolidWorks on their SAE Mini-Baja team.
The team had a display in the Partner Pavilion, and I took the opportunity to speak a while with one of the students (sorry, can't recall your name!) on duty at the booth on Monday.  I was really impressed with the amount of design, analysis, and prototyping that they do and the quality of the completed buggy.  I participated on the Mini-Baja team when I was at UAHuntsville, but I believe that we were really disadvantaged compared to these students!
I was really struck at how the student said that they had started using SolidWorks…they actually went to the school and demanded SolidWorks so that they would be able to get relevant jobs when they graduated.  He also said that local companies were really supportive of their team and involved with mentoring the students, as they were vying for candidates with the skills needed in their industry.
SUMMARY
In Jeff's words, "Engineering design will be the new global language."  With that, the SolidWorks World 2009 wrap-up video was shown.  In his closing comments, Jeff reflected back on Monday and the car ride over with Sir Richard Branson from the General Session at the Dolphin to the press conference at the Swan.  He said that as busy of a man as Sir Richard was, the only thing he was concerned with was how he could get his hands on the incubator from Design That Matters that was shown in that day's (Monday's) General Session.  He wanted to get that into Africa as quickly as possible.  Also mentioned Monday was that MicroWind Technologies, Inc. was looking for funding for their low-cost windmills; Sir Richard gave them a call on Tuesday!
So there you have it!  SolidWorks World 2009 has come to an end…  Be sure and check out my Flickr photostream for all the pictures I took from the conference.  I have pretty complete coverage of the Product Design Showcase from the Partner Pavilion, with pictures of just about every product that was on display and it's information card.  I hope that in some little way I helped give those that were not able to make it to Orlando some feeling for the excitement and energy that was SolidWorks World 2009!
(Sorry for the delay in posting my Wednesday General Session wrap-up; I had to rest a little, catch up on several things at home and work, and spend some quality time with my family.)
Last edited on 04/14/2009 @ 3:15PM CDT.