SolidWorks World 2009 Tweetup
8 February 2009
3 Comments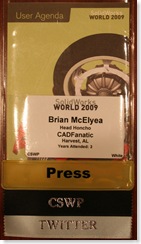 Last (Saturday) night, all of the SolidWorks bloggers and folks from the SolidWorks Twitter community who had already arrived in Orlando met up in the Dolphin bar area of the Disney Swan and Dolphin Resort.  It was awesome to meet with some new folks who I have never met or met only known online, and to also catch up with some old friends.
There were also many SolidWorks employees mingling around, and even Jon Hirschtick and Jeff Ray were making the rounds talking to the users.  That's one of the really awesome things about an event like SolidWorks World – you have access to the movers and shakers behind the SolidWorks software, and even the top brass is very approachable.
I will have all my pictures up shortly at Flickr (and be sure to check out the SWW09 Flickr group for more images), but here are a few interesting images from last night:
Be sure to avail yourself of the opportunity to make connections with other users and the SolidWorks folks.  And if you see me in the Partner Pavilion or just wandering the halls, please come up and introduce yourself; I would love to meet and get to know other users!
Last edited on 02/23/2009 @ 2:50PM CST.