SolidWorks World 2009 – Tuesday General Session
11 February 2009
7 Comments
Tuesday's General Session opened up with Fielder Hiss taking the stage.  I missed a little of the opening comments, as I had left my camera battery up in my room.  When I returned, there was an awesome Neo Shifters video playing.  Everyone who attended the CSWP Event Monday night got a Neo Shifters set.
TRANSFORMING ROBOT CSWPS

After the video, Jeremy Luchini took the stage and he talked with Yanick Tremblay, Design Manager for Mega Brands.  Yanick quickly walked us through the design process for creating a transforming robot.
Jeremy then talked about the SolidWorks Certified Professional exam and the changes to the program.  The test can now be broken up and taken into one-hour sessions and there are also tools available for managers or whomever to check a users test status:
JON HIRSCHTICK KEYNOTE

Then Jon Hirschtick, co-founder of SolidWorks and the company's first CEO, took the stage.  Jon had nothing but good things to say about the current management team, going so far as to say that, while taking nothing from previous management teams (including himself), it is the best ever.
He also stressed that he wished for SolidWorks and it's extended community to continue to change and evolve and move SolidWorks forward.
Jon's keynote centered around current and future technology trends and customer visits.  He caveated his presentation by stating that he was merely speculating on the future of CAD and that he was not making any kind of new product announcement.
TECH TRENDS
The 4 technology trends he spoke about are as follows:
TOUCH/MOTION UI
Jon talked about the evolution of the touch screen interface.  He pointed to products such as the Apple iPhone, Nintendo Wii, automobile GPS units, and computer peripherals such as Wacom tablets and the 3Dconnexion products.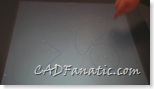 SolidWorks has also got some research going on with the Microsoft Surface table.  A video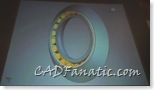 was shown showing the possibilities of using a touch interface with CAD and there was a unit in the Partner Pavilion available to attendees to play with.  Please read my article on this to learn more.
Jon also believes that CAD will become a hardware business again.
ONLINE APPLICATIONS
Jon mentioned that many applications are currently moving "to the cloud" online, such as mail, documents, and banking.  He also pointed to two applications from SolidWorks Labs:  Drawings Now and Blueprint Now.
VIDEO GAME TECHNOLOGIES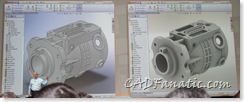 The best graphics used to be generated by CAD applications, but now games hold that honor.  SolidWorks has been looking at games and performance and implementing things to help give us great-looking, but light-weight graphics.  Jon mentioned two technologies that is available in SolidWorks, ambient occlusion and PhysX by ageia.
3D PRINTING
Jon talked of the improvements in 3D printing in the last few years and the high rate of adoption.  Both of the customer's that Jon visited (mentioned below) use 3D printing as critical parts of their design process.
FUTURE CAD SYSTEM?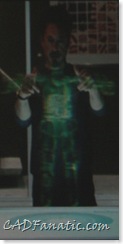 Jon finished off his talk on technology trends by showing a clip of Iron Man where Tony Stark is designing his suit in a holographic CAD system.  I think that is every designer's dream!
CUSTOMER VISITS
Jon then showed videos of two customer visits he recently went on, one to New Balance and one at Sony Ericsson.  He encouraged all SolidWorks employees to go on customer visits, as that is one of the best ways to learn how users use the software.
NEW BALANCE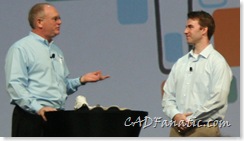 First up was Matt Dunbar, Senior CAD Designer for New Balance.  Matt talked about how they use SolidWorks and 3D printing in their iterative design process for shoe soles.  He said that they run approximately 100 3D prints per month.  Their sole shoe files generally run around 1300 features, but they have had files with as many as 1800 features!  With five widths for each shoe size, that means that they have 176 different size for each style of shoe.  And they have 1000 molds and dies driven off of one SolidWorks part!
SONY ERICSSON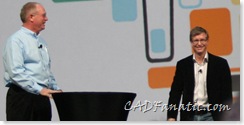 Next, Tom Waldner, Senior Design Manager for Sony Ericsson took the stage.  At Sony Ericsson, they use 3D printing as more of a daily design tool, printing more than 4000 3D models per year.  Tom said that they only perform about two to three hours of engineering design on a new phone design before they 3D print the first simple model prototype to see if they are going down the right path.
PINK SCOOTERS AND SUMO WRESTLERS

Next up was Stephen Endersby, SolidWorks Simulation Product Manager, who kept trying to talk about Simulation.  But every time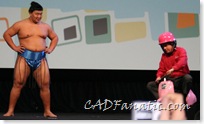 he would get started, he would be interrupted by this booming announcer's voice announcing the Will It Break? game show.  Then, a sumo wrestler walked out on stage, and then…Jeff Ray drove out on a little pink scooter; wearing a pink helmet!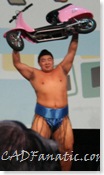 To see if the scooter would break under the load, the sumo wrestler proceeded to sit on the scooter and drive around the stage!  Then Stephen showed how Simulation could be used to test the strength of the frame to verify if it would withstand the load.  The sumo wrestler was once again utilized to perform a drop test; he literally picked the scooter up, shoulder-pressed it, and threw it on the stage.  Then Stephen showed how Simulation could perform the drop test without actually have to destroy something.
SUMMARY
The future of CAD technology looks bright.  You know what they say about how movies can predict the future…  Scientists have actually teleported electrons, so one day I hope that there will exist such a CAD experience as that shown in Iron Man.
Last edited on 02/23/2009 @ 2:51PM CST.