SolidWorks World 2009 – CSWP Event
9 February 2009
3 Comments
Monday night is the night of the CSWP event. All those users who are certified are eligible to attend. This year's event was held at Disney's Sorcerer's Apprentice at Fantasia Gardens. The event this year was sponsored by Mega Brands, who provided all the iCoaster sets for the contest of the night.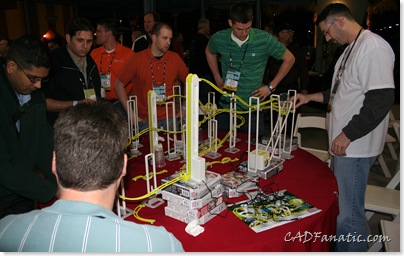 There were many intriguing designs. This is the kind of toy that any engineer/geek would love to have on their desk!
There was roast turkey and beef and some buttery mashed potatoes that were the bomb! A good time was had by all. Most folks looked like it was Christmas morning trying to build these complicated and intricate roller coaster designs.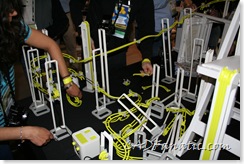 Some of the bloggers tried their hands at designing a coaster, but there were several design issues…or maybe it was the alcohol?
Jeremy Luchini and the whole certification team always does a nice job with this event, and this year was the best yet! Be sure to check out my Flickr stream for complete pictorial coverage of the CSWP Event, along with images from the rest of the conference.