A Touch Of 3D – CAD On Microsoft Surface
10 February 2009
7 Comments

SolidWorks is investigating the future of technology and the CAD interface. In the Partner Pavilion, they have a Microsoft Surface table set up with a basic 2D sketcher and eDrawings running on it. I spent a little time this afternoon playing around on it and talking to Kirk Haller, Director of Research at SolidWorks.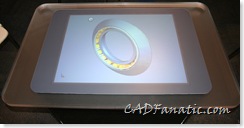 Kirk and his team at SolidWorks wrote the code for the sketcher in 3 weeks. For the eDrawings implementation, they worked with IdentityMine Inc. and stripped out the eDrawings UI, replacing it with a Surface UI. The code is written in C# and based on the Microsoft Surface SDK.
This is very exciting to see, and it is easy to visualize the many uses for this technology, such as working collaboratively and design presentation and reviews.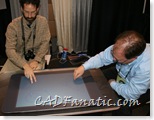 The Microsoft Surface table uses 5 infrared cameras to track user's fingertips. The camera array will track up to 100 different contacts.
I jokingly made the comment that now they should investigate extruding out of the table (ala Iron Man), Kirk responded, "We're just now getting to Minority Report…" Seriously though, seeing this technology in action, prototype or not, really gets me excited about what the future holds!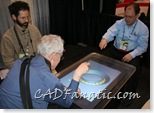 At this point, the Surface software is only a research project for SolidWorks. There are no plans for development or release. They are simply thinking ahead.
Does this get you as excited about the future of CAD as I am? What do you think about it?