CADFanatic's Tips & Tricks Tuesday – Save & Share SolidWorks Settings
25 November 2008
4 Comments
Have you customized your install of SolidWorks?  If you have added or changed file locations, tweaked keyboard shortcuts or menus, then you have.  But have you backed up your settings?  SolidWorks makes it easy for you with the Copy Settings Wizard.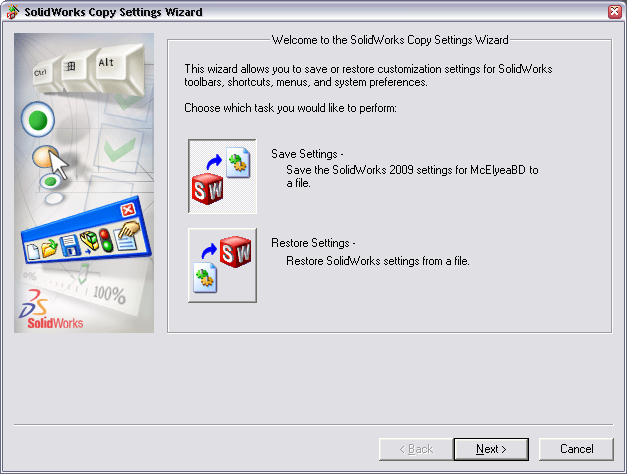 Back Up Those Settings!
If you have to reinstall SolidWorks for some reason or have multiple users accessing a network share for templates, the Copy Settings Wizard can makes things much easier to get up and running quickly.  (It's also very handy to help lessen the impact when your IT department decides to change the name or IP of your server…)
I assume that most folks out there know about the Copy Settings Wizard, but if you are like me and make little tweaks here and there along the way, you should make a backup of your settings after doing so.  I have made the mistake a few times lately of neglecting it, and then having to reinstall.  So make this a part of your regular routine; sooner or later, you will be glad you did!
Do you have any special tips or tricks you use to make working with SolidWorks faster or easier?  Email them to us at [email protected] and it may be featured on a future CADFanatic's Tips & Tricks Tuesday!