Benefits of Attending SolidWorks World 2009
10 November 2008
No Comment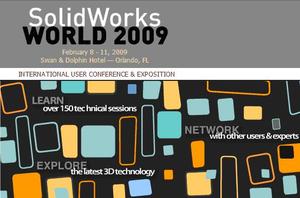 It is drawing ever closer…the day when thousands of SolidWorks employees, users, and vendors converge on the Happiest Place on Earth. SolidWorks World 2009 will be here before you know it and for a few days, the ratio of engineers to rodents in the House of Mouse will skyrocket!
Jason over at RockSolid Perspective has pulled together some great testimonials on attending the upcoming SolidWorks World 2009 conference in his post, Orlando or Bust…What Others Are Saying. He posed the question, "As a user who has been to a previous SolidWorks WORLD, why do you feel it is beneficial to attend this event?" to our fellow bloggers.
If you've never been to SolidWorks World before, or are having problems justifying the trip, then check out Jason's article for some worthwhile arguments for attending the conference from folks who have been there. I hope to see you there!