Free Certified SolidWorks Professional Sheet Metal Specialist Exam
28 September 2008
No Comment
The free sheet metal certification exam offer ends this coming Tuesday, September 30. The code to get the free exam was originally emailed out to all Certified SolidWorks Professionals (CSWP's), but it was also posted in the last (September 23) issue of SolidWorks Express (under NEWS and EVENTS).
Don't think you have what it takes? Work through the tutorials and take the sample exam. I don't really do much sheet metal, a part here or there, but I ran through the sample exam before taking the exam, and I just passed it!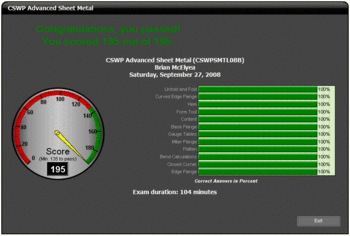 I had to go to the Help a couple of times and experiment a little, but you get two hours to complete the test, and there is an extra credit problem worth a few extra points. You need to get at least 75% correct to pass.
My advice for taking this exam (as well as any of the other certifications)? READ THE DIRECTIONS, AND THEN READ THEM AGAIN! Double-check all your dimensions, and don't make assumptions. Most of the electronic exam questions build on the previous ones, so if you make a mistake early on, you are pretty much hosed.
So, what are you waiting for? You have nothing to lose…what the heck, it's free (as long as you sign up by Tuesday!).