Discounted Disney Tickets Available While At SolidWorks World 2009!
25 September 2008
No Comment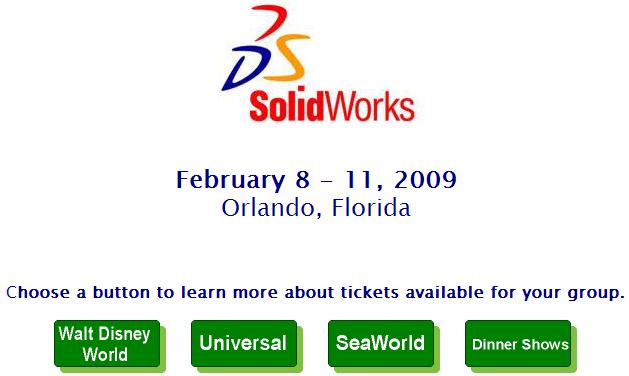 If you are attending SolidWorks World 2009 in Orlando, Florida, this next February and were planning on visiting DisneyWorld or some of the other attractions in the area, SolidWorks has made arrangements for anyone attending to get discounted tickets. This site will allow you to order tickets at a cheaper price than what you can get at the gate or ordering online.
They ship the tickets directly to you, so you must submit your completed order form no later than January 16, 2009. They will also be onsite at the conference, and you can purchase discounted tickets there as well. The onsite schedule is as follows:
Saturday, February 7th from 11:00 AM – 6:00 PM
Sunday, February 8th from 7:00 AM – 7:00 PM
Monday, February 9th from 7:00 AM – 7:00 PM
Tuesday, February 10th from 7:00 AM – 6:30 PM
Wednesday, February 11th from 7:00 AM – 12:00 PM
So order your discounted tickets today!